"I'm too hipster for this."
"More issues than Vogue"
"I can't even even with you right now"
"I've got 99 problems but 87 of them belong to other people"
"When I die, I want everyone who's ever worked with me on a group project to set me into my grave so they can let me down one last time"
"I run 99% on caffeine and spite"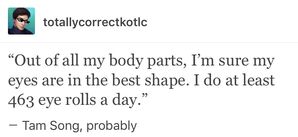 Hi, I'm Luna! ♡
I'm just an amateur artist/author who occasionally leaves her Cave of Solitude [bedroom] to come and chat on the wiki, go to some sort of social event, get some rare vitamin D, go to a swim meet, or go to music lessons.
I am a member of The Sophitz Armada! I'm pretty neutral on Sophitz and Sokeefe (I see merit in both). Ultimately, it's up to Sophie, but I do see just a tiny bit more possibility in a longterm relationship with Keefe, but I'm willing to be proven wrong.
Don't be scared to talk to me! Especially if you have book recommendations or just wanna be friends! Also, I've been on the wiki since basically the beginning, so if you have any questions please feel free to talk to me!
Keepers of Hogwarts
Edit
This is my Hogwarts AU fanfiction. I'd been brainstorming for a month and a half, getting nowhere, until I finally took initiative and started asking people about what house the characters should be in and making my fanfiction's page.
I could never have done this without everyone here's support, especially when I thought I wouldn't be good enough or whatever. I mean, I still feel like that, but it's less than before. Special thanks to Bea for helping me brainstorm and just being generally awesome about this. You can go check it out here!
Keepers of the Fandom
Edit
Rida and I created the Keepers of the fandom. It started as a joke, but we designed cute uniforms, so it's worth it.
Co-Leaders: Rizi213 and Luna di Angelo (me)
Members: Ella the Elephant (first member), BookBeliefs, Biana&Tam, Bananazilla the Telepath, LuckySwan, Julie the Froster, Izilia the Prokinetic, Rararobin14, Hihihi nia!, XXRedWolfOneXX, Tam Song, and SuldreenSong
Please contact either me or Rida if you wish to join! If you want more information, Rida wrote a discussion post that you can find here.
Lovely People <3 (some of these are a wee bit outdated so bear with me)
Edit
Bananazilla the Telepath (SOPHTON FOR LIFE) A cool dude who plans funerals in a corner whilst dealing with all of our crazy. Also, please stop tripping on chairs, it hurts their feelings.
Biana&Tam (#HAM4LYFE) My wonderful Korean twin, you are incredible and totally deserve Tam if Biana doesn't get him first. we are the Amazing, Incredible, Fabulous Twins!
Book Beliefs Bea, a great author and debating with you is fun! I JSUT want to say that you're fabulous! #BEACAN'TSPELLJSUTSHEMEANSJUST! #AvengeBethany
CCow the Hydrokinetic Chloe, you're also really kind and a great friend. You are reasonable and logical within our insanity, and make sure we don't do anything too stupid. I'll miss you!
Crocp.aws You're an incredible bean who is so good at art, like, hOw? Great art friend who has joined me in #SoNeutral.
CustardBursts (SHENAH FOREVER) A slightly crazy girl who is far too interested in my love life for her own good. Keep being awesome at hockey. THE BOOK PEOPLE AWAIT YOUR ARRIVAL And most of all, thank you so much for always being yourself and proving to people that they matter more than what someone says or thinks of them. You're super inspiring and funny and creative and cool and have one of the purest hearts and kindest souls and you're doing something special. The world needs more Eva's <3
Ella the Elephant (Elcholas!) Ella, you always have kind things to say and are a generally awesome person to be around!
Hihihi nia! You always leave such kind comments and are a really cool person to talk to. Proud Fitzphie shipper! Your writing is marvellous! Keep your head up and don't let others' words get you down. You are worth it. I will miss you sososososo sooooooo much and I wish you the best because you deserve it; with your kindness and maturity, you will go far and surpass any and all expectations of you. ❤️
Izilia the Pyrokinetic You're super cool and sing Hamilton with me, so, YAY! Kind words and pleasant convos.
Julie(t) the Froster My wonderfully kind, fellow Californian!
LuckySwan Lucky, you're always really sweet and kind, and your art is INCREDIBLE. You provide good insight into situations.
ReadItAll I'll miss you! You were such a nice person. See you next year! Your writing is AMAZING!!!
Rizi213 (All Hail the Plot Twist Queen)You are an incredibly talented songwriter and a harbinger of great ideas. Thank you for creating the Keepers of the Fandom! You've taken the tar up in stride and are so dedicated to the wiki, I don't think we would've gotten this far without you.
Z-FunWithBooks I have known you for less than a day at my time of writing this, but I can already tell that you are super amazing and dedicated to the wiki. Before I knew you, my notifications were blowing up with your name because of how much you comment and edit, so I know you'll do amazing things on this wiki. (Also, you like John Green/TFiOS so that makes you 10x cooler in my book)
And Others! If I forgot to add you, I probably just forgot and will do it ASAP
Just a friendly reminder that I adore everyone on this fandom, but these are a few people that stand out, go above and beyond, and do everything in their power to help the wiki and their peers. If you were mentioned here, we've probably live chatted, geeked out about something or other, have helped me and/or let me help you and I just want to appreciate all of you. Also, this list is in alphabetical order and in no way is influenced by how much I adore you. Stay fantabulous <3
Books! (and my ships)
Edit
Harry Potter! I read these in first grade for the first time and love them to this day. They got me through a really weird and scary time in my life from ages 6-9 and I'll eternally love them for that. The first time I took the Sorting quiz, I got Ravenclaw, but I got Slytherin the second time. My wand is Blackthorn wood with a Dragon heartstring core 12 ½" and Hard flexibility on my Ravenclaw/official account and my Patronus is a Mastiff.
Shadowhunters! These are INCREDIBLE YA books, and I adore them. #MALEC
PJO/HoO! I'm a daughter of Pluto/Hades. PERCABETH AND SOLANGELO FOR LIFE!
KotLC! I've loved these books since the first one came out. I've had to wait for EVERY book and it's been gruelling.
Legend! I loved these books but liked Day more than June. That ending made me SOB!
The Land of Stories! I ADORED these books and was so sad when they finished. I'm still waiting for Alex and Arthur to get back together!
Alex Rider! I read these a SUPER long time ago, but they're still really good! They were the first to get me into spy stuff!
The Art of Racing in the Rain! I have no words for how beautiful this book is! I read it for the first time when I was 7 or so and it helped me get through a time where I was so lost and confused (same as with Harry Potter).
John Green! I hate him, I love him, I'd be incomplete without him. My favourite book, personally, is Turtles All The Way Down, but I also love Looking for Alaska and An Abundance of Katherines.
Aristotle and Dante Discover the Secrets of the Universe! Ah, you have no idea how much I adore this book. It's super underrated and all of you should read it! Also, there's an audiobook which equals seven hours of Lin-Manuel Miranda telling you a beautiful story of friendship, love, and coming of age.
The Outsiders! This book was amazing and a really thoughtful soliloquy on being a teenager!
Of Mice and Men! Maybe it isn't my favourite book, but it's beautifully written and provided plenty of food for thought!
The Lord of the Flies! A gruesome yet beautiful allegory on humanity!
Five Feet Apart! It's TFiOS esque and it's beautiful and I love it (Also Cole sprouse is supposed to play Will !!!)
I read faster than I can add books here, so stay tuned!
Miscellaneous (not so) Fun Facts Because Why Not?
Edit
I've taught myself to play the piano
I play the violin
Spanish is actually my first language, but I've grown up speaking English as well
I teach myself languages when I'm bored (I am fluent in: English, Spanish, Mandarin, and Italian; I am still learning: French, Japanese, German, Latin, Greek, Esperanto, Korean, Hebrew, and Tagalog) (Oh yeah, I'm also a massive LotR nerd, so taught myself some Quenya!)
I LOVE DISNEY! Coco is probably one of my favourite Pixar films at the moment. When I was little, I loved Lilo & Stitch, The Aristocats, A Bug's Life, and The Little Mermaid!
Side Disney Tangent: Cinderella III: A Twist in Time is, unironically, a glorious film that should not exist but does anyway and is probably one of my favourite 2D Disney movies
I speak in a soft, London-y accent if I don't think about speaking American and write the British way, probably from watching way too many British cartoons as a kid
My voice is said to be soothing and reminiscent of a Disney princess; my vocal range is also right where most Disney voices are
I love musical theatre! Some of my favourites are Les Misérables, Legally Blonde, Hamilton, Dear Evan Hansen, Heathers, Newsies, Mean Girls, The Lightning Thief Musical (yes, an actual Percy Jackson Musical), Wicked, and so many more!
I'm pretty shy. But I'm an extroverted introvert, so I love being around friends even if it's a little bit draining
I try not too eat red meat and avoid animal products and animal testing etc whenever possible
I am the rarest of the Meyers-Brigg Types, INFJ, alongside J.K. Rowling, Plato, Mahatma Gandhi, Jon Snow, Adolf Hitler, Remus Lupin, Dante Alighieri, Leo Tolstoy, Atticus Finch, Osama Bin Laden, Nicole Kidman, Michelle Pfeiffer, Mother Teresa, Hillary Duff, and Éponine (which is a really questionable mix of people; yikes)
My favourite colours are teal, silver, gold, pastel yellow, and mint blue-green
I've mostly taught myself to draw; I was trained by an artist once i got the basics down for two years (mostly in realism) then proceeded in the long, long journey of developing my own style
I can guess the plot of books by hearing brief summaries and/or reading the first few chapters. Same with movie plots; it gets really sad, and not fun after a while
I have met SW Messenger three times; one of them being at my school and the others at the Nightfall and Flashback launches (she's probs sick of me by know)
If you go on Shannon's Instagram, you can try to find me in the launch pictures
I've waited for every KotLC book and it's been gruelling
I want to study architecture and/or linguistics. If not, then oncology, animation (hopefully for Disney or Dreamworks), or epidemiology
If I were an elf, I'd probably be a polyglot (have you seen all of the languages I speak?) and an empath, (I have acute feelings of empathy that make me "feel" people's emotions. It's über draining)
I am awful at whistling
In my Slytherin Pottermore account, my Patronus is a salmon (I always go with the Ravenclaw's mastiff)
I say I'm SlytherClaw, but I've always identified more with Ravenclaw, even though I am immensely ambitious
My hair is my pride and joy; I've been voted for having the best hair
I give good advice but am helpless in my own life
I know when people like each other but have no clue with myself
I am an Honour Roll student
I've gone to the same school since I was 4
My brother was the one who named me
I was named after a character from Toy Story 2 so unimportant you don't even see her face. The only reason my brother even knew the name is because it's yelled once at some random point in the middle of the movie and, to my brother's two year old self, it seemed to stick.
High-key cried when I didn't get my Hogwarts acceptance letter
I'm still waiting for a cute boy or mythical creature to whisk me away to some magical land
I have a glorious Red Siberian Husky named Niko
I'm on a swim team
I'm a cheerleader for my school
Side note about cheer: all of the basketball cheers *suck*
I'm literally the most awkward person you'll ever meet. This isn't me trying to be relatable, I just can't find it in me to have a notmal conversatio, I always end up getting to existential or like start speaking Italian or say something wrong and ughhh
Pretty trashy irl but I sometimes put effort into my appearance and it can pay off
Im pretty flexible
I like acting despite my terrible stage fright
I relate to all of the teenager post things on a spiritual level
I hate physical contact but allegedly give good hugs
I love sushi and norimaki (But Korean hot pot is amazing too)
Quotes I Like
Edit
The web of our life is of a mingled yarn, good and ill together—All's Well That Ends Well; Act IV, Scene iii
No—Hamlet; Act III, Scene iii
She was afraid of heights but she was  much more afraid  of never flying.—Atticus
People in their right minds never take pride in their talents—To Kill A Mockingbird
Why be blah when there's aquamarine—Sally Jackson
I fell in love the way you fall asleep: slowly, and then all at once—TFIOS
We are all differently broken, semi-functional, rusted out love machines—Hank Green
The universe is under no obligation to make sense to you—Astrophysics For People in a Hurry
things ive heard my friends or myself say (a lot of them are about death—don't worry about it)
Edit
Wait, who died? s.m.
I'd willingly let her murder me. h.l.
I smell like your dog. My dogs think I'm cheating on them! a.c.
The lady who died, is she dead? g.f.
How does one human? s.m.
THE BURGUNDY WILL TAKE OVER h.l.
*if you've made it this far and want to help me make this shorter, can someone please teach me how to code so this page isn't a gajillion times longer than it needs to be*
Edit
Community content is available under
CC-BY-SA
unless otherwise noted.