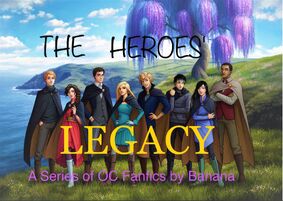 The Letter
WARNING: THIS IS AN OC FANFICTION, AND WILL NOT ACTUALLY HAPPEN. PLEASE DO NOT TAKE ANY OF THIS SERIOUSLY. JUST FOR FUN
THIS OC HAPPENS AFTER A PROPER SCOLDING.
Coral walked out into the living room. Linh recently came in from tending to the gardens, and sat down on the couch, in front of Coral. Linh frowned. "I thought you were grounded. Why are you here?"
"Sorry," Coral said shyly. "But, I wanted to ask you a question."
"Ask away," Linh said with a smile.
"What happened to Leila?" Coral asked.
Linh bit her lip. "I was wondering when you would ask. When...we would have to tell you."
"Tell me what?" Coral asked.
Linh stood and reached into her cape pocket, and handed Coral the letter that had been there"This came a few weeks ago."
Coral read it carefully, shock on her face when she ended it. She dropped the letter.
"You hid this from me?" Coral asked.
"We thought it might hurt you--" Linh began, walking toward her daughter and stroking Coral's hair.
"Leila is my cousin!" Coral argued. "I deserved to know she had joined the Neverseen!"
"You did," Linh agreed, pulling Coral in for a hug. "And I am sorry for keeping this from you. But, you know how Wylie gets when he's fixated on things. But please know we only wanted you to be safe, and not involve you in this."
"How could I not be involved? We're related!" Coral said.
"What I mean, is that Wylie had an idea," Linh said, with a sigh. "But the reason you are cousins is the reason that we feared it would happen. It would involve you having to take Leila down."
"Oh." Coral said. "But, I can do that."
Linh looked at her daughter skeptically. "Can you?" Coral pondered this, and Linh told her before she could answer, "I asked Sophie to ask one of our old friends about Wylie's idea. Turns out they accepted you."
"They?" Coral asked, more scared of the answer than she knew.
"Yes," Linh said. "You are about to join the Black Swan."
Community content is available under
CC-BY-SA
unless otherwise noted.