In this piece, there will be multiple one-shots of possible pasts and futures of the characters in the Keeper of the Lost Cities series. Book 1 will have one-shots of the main protagonist; Sophie Foster. The first half/section of the book will contain possible pasts, and the second half/section will contain possible futures. Upon completion of this first book, I will ask all of you which character I should take on next, unless I already have a good idea of who I will choose.
Status: Ongoing
---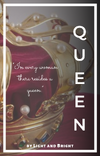 Stuck in a world full of adversity, taking on another challenge was not even an option; but it had to be done. Nobody was going to rein her in anymore.
But just what could a simple human girl do after years of planted discrimination amongst the population? Now this, Rani had no answer to. Neither did she have an answer to why she looked different in comparison to everyone else around her. What she did know, however, was that others shouldn't have the right to judge her based on it.


Status: Up for grabs
---
In Hello, World, characters will respond to our fanfiction stories in letters to let us know how they feel about us writing about them.
Status: Completed, I marked it as this because it can be read as something completed because the sections have nothing to do with each other.
Community content is available under
CC-BY-SA
unless otherwise noted.