| | |
| --- | --- |
| | This is a page that has been archived. It is not to be edited anymore unless specified otherwise. |
S T A T U S
The deadline for submissions has passed.
Voting has taken place and results are out.

Entry #4 won this competition.
I N F O R M A T I O N

This is a wiki-related competition regarding icons for departments. On the front page, there is a certain section that looks like the image below: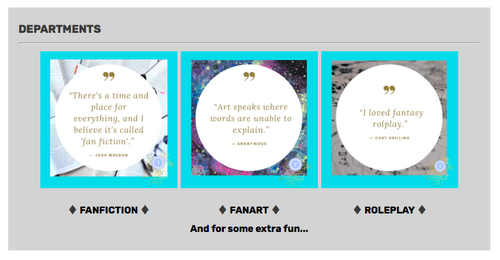 Now that a new department is being added (Forum), these images need to be re-done. And this time, not only will these images be on the front page, but they will be used as icons on important pages.
To see what is meant by icons, here is an image from the Miraculous Ladybug Wiki showing how these icons will be displayed:

Below are the requirements for the department icons:
They must be square in shape, 500px * 500px or larger
Each entry must have [at least]* four images; one for fan fiction, one for fan art, one for roleplay, and one for forum.
The entries have to follow some overall consistency, though they should be able to be told apart at a moment's glance.
One can tell the department of the icon with just a mere glance at the photo, and no background knowledge. This must hold true for the small icons as well.

*If you'd like, you can make separate images for the front page, and separate images for the icons at the top right

The images below are examples of possible icons, and constitute the first entry:
E N T R I E S
Entries will be displayed as 100px images and 20px images, since that is how they will appear on department pages and article pages, respectively.
P O L L

Note: In no way shape or form is bribing, creating other accounts, or advertising for votes for your icons is allowed. If you are caught doing the prohibited, your icons will be removed and you will no longer be able to participate in this competition. Also, please cast your vote according to what you think is the best set of icons for the wiki -- you can vote for a friend's design, but don't vote for a set of icons simply because your friend created it.
This poll is over.
Community content is available under
CC-BY-SA
unless otherwise noted.