❀SophieFoster11(Sophie)❀
---
1) Fill out the following bullet points regarding your character's basic information. Each applicable bullet point should have at least a sentence or two of description, except for the gender, sexuality, age, and Ancient sections.
Gender (eg: male, female, non-binary, etc): Female
Sexuality (eg: heterosexual, homosexual, bisexual, etc): Straight
Sex & Gender Status (eg: cisgender, transgender, etc): Cisgender?
Age (and foxfire level, if attending): 15, Level 5
Ancient (yes/no): Nope
Early life: Crystal is an only child. She inherited her eye color from her mother and her hair color from her father.
Personal life

Relationship with parents: Her parents work for the nobility, and she almost never sees them.
Relationship with siblings: She doesn't have any.
Other relationships (if applicable):

Skill set: She's good at her telepathy, but is good at her polyglot ability. She can understand animals at a basic level.
Career (if applicable):
If your character has manifested, write their ability here: Telepath, Polyglot
If your character has not manifested, write what ability you want them to have here:
2) What is your character's personality like? Each bullet point should have a sentence or two of description.
Personality type (eg: ambivert, introvert, INTJ): Introvert.
General demeanor: Quiet, clumsy, and smart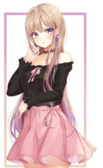 3) What does your character look like? Do you have a model in mind for them (optional)? (if you do, you only need to say who it is)
Hair color: Blonde.
Eye color: Sparkling midnight blue.
---
Approved
---
Make sure to add the following categories (and not any others):
Roleplay Character
SophieFoster11
15-year-old
Level Five
Teenager
Female
Cisgender
Heterosexual
Telepath
Polyglot
Dark Blue Eyes
Blonde Hair
(optional) Introvert
(optional) Short, Average Height, or Tall

Community content is available under
CC-BY-SA
unless otherwise noted.