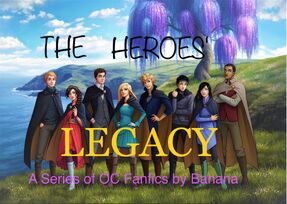 The Stories of Blake Babblos
WARNING: THIS IS AN OC FANFICTION, AND WILL NOT ACTUALLY HAPPEN. PLEASE DO NOT TAKE ANY OF THIS SERIOUSLY. JUST FOR FUN
CHAPTER 1
Blake Babblos is the son of Jensi Babblos and Marella Redek. Jensi and Marella got married and had Blake as their child. Blake takes after his mother, and is a Pyrokinetic, with short blond hair, pale skin, and bright blue eyes. Blake is also reasonably short for his age. Blake tries to hide his ability, since he is ashamed of it, and is also very quiet. He's a Level 3, with exceeding grades and few friends. The Council has yet to remove the ban of Pyrokinesis, so Blake must live with the shame of being Talentless unless he triggers another ability, which he is desperate to do. Marella is giving him small Pyrokinesis lessons, just so Blake doesn't think of himself as useless. Marella tries to show him the amazingness of his strength, but Blake sees nothing special in a skill he is not allowed to have or use. Nevertheless, his Pyrokinetic powers are outstanding, even with the little practice he has. His parents are worried what he might do if he lost control. They're trying to convince Foxfire to give him Pyrokinesis lessons, even though they know the risk. His parents push for the lessons to happen, even with no success, Marella continues to mentor Blake until he has gained enough control that his confidence has grown so much from his small isolation strategy he had in the early levels that by the time he is in Level 5 he begins to brag to other students about his Pyrokinetic abilities. One fateful day a brave kid invites Blake to a nice hilly, empty green pasture. The kid explains that he thinks Blake is bluffing about being so powerful and doubts Blake's ability. The kid dares Blake to burn the whole pasture down if he was brave enough. Blake contemplated the scorn he would get for this, and also the pressure of all the words the kid was spewing out of his mouth. Eventually, Blake gave in, got ready, and obeyed the child. Whether it turned out well or not, only time will tell.
To see what happened, check out this OC fanfic, or this one.
Community content is available under
CC-BY-SA
unless otherwise noted.